Posted by Alan Morrell on 30th Oct 2014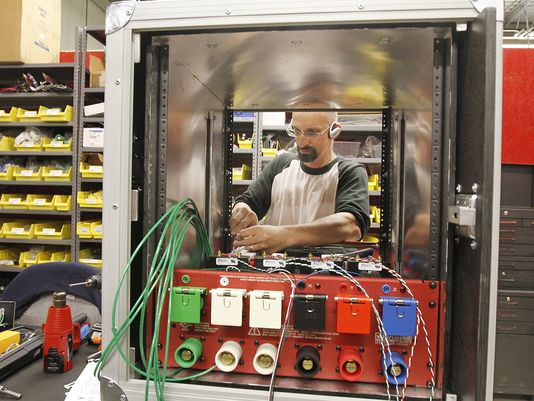 Whirlwind Music Distributors has kept some of the biggest names in rock music, and some of the best-known places in America, wired for nearly four decades.
The Greece business manufactures audio and video equipment like black boxes, effects pedals, panels and splitters. Clients have included the Pentagon and the White House, Cowboys Stadium in Dallas. Rockers like Bruce Springsteen, The Rolling Stones, Jane's Addiction and the Red Hot Chili Peppers use its gear.
Whirlwind's website claims the company "offers the largest range of professional interfacing products in the world."
That means "we're the guys who connect everything," said marketing director Will Young, who also is in charge of artist relations. "From the guitar cord to the splitter snakes to the broadcast truck to power distribution, anywhere that you see a cable or a connection, we manufacture the stuff."
Company president Michael Laiacona started Whirlwind in 1975 after working for a local company called MXR, which made effects pedals. Those are the electronic gizmos that alter the sound of a musical instrument or other audio source.
"He hooked up with these guys who were building pedals in garages," Young said. "He took these all around the country, selling them to musicians. He was in a band, and they were trying to build their own snakes and guitar cords because they couldn't afford to buy them. He started with guitar cords and it got bigger and bigger and bigger."
(The snakes of which Young speaks, by the way, are a type of audio equipment, not the reptiles.)
Laiacona's aha moment came at a trade show of the National Association of Music Merchants in California. He was hoping to get into guitar distribution, Young said, and, working with engineers, had built guitar cables to use. The cables were a big hit.
"Everyone was saying, 'Where did you get these cables?' They were serious, killer cables," Young said. "They left the show saying, 'I guess we're a cable company.' That's how it all took off."
Laiacona then formed Whirlwind with his late wife, Bonnie Gardner. He played in a band appropriately named The Connectors. Whirlwind continued to grow and now has about 130 employees. The company started on Boxart Street in Rochester and moved to Ling Road, near the Lake Shore Country Club, about 15 years ago.
Whirlwind's equipment has a reputation for reliability and sturdiness, Young said. That's particularly important for hard-living, constantly touring musicians.
"We overbuild everything," he said. "It's made for the road. It's made to last forever. We double-solder everything."
Whirlwind has an extensive client list. NASA, ESPN, Disney and the Bellagio hotel/casino in Las Vegas all have been customers, Young said. The company worked for years with the Buffalo Bills and the team's Jumbotron and has done work with large airports as well as churches and nightclubs.
"Never mind all the big rock shows," he said. "A huge part of what we do is problem solving, including video. We manufacture the products and sell to sound contractors. They send us the specs and we help them determine what they need. We're the best-kept secret in Rochester."
Morrell is a Rochester-based freelance writer.